As a long time fan of hair health, and a recovering hair product junky, I have learned a thing or two along the way... and then I went grey. While some of the lessons remain the same, there are now also new considerations that have to be factored in to maintain the hair success I have become accustomed to.r 
The first step in a successful outcome for me has always been... what does my hair need today?? Is it dry and in need of a deep conditioner or a hot oil treatment? Have I over saturated it with product and is it in need of clarifying shampoos? The reason that I always start here is because, I can follow the advice of what another did, that worked out perfectly for them, but will that work for me?
Step 1 in hair care and for your own personal success is knowing what YOUR hair needs.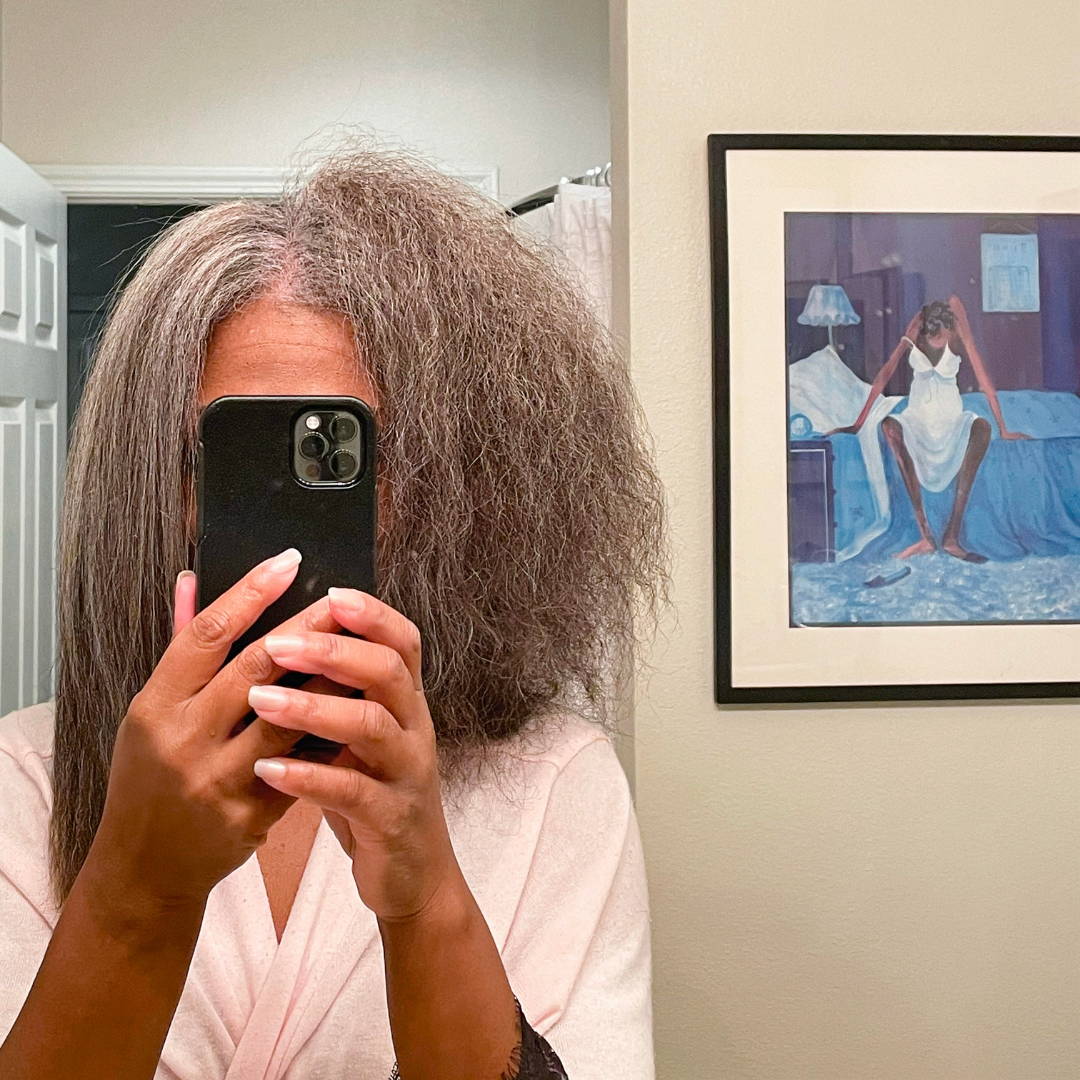 Step 2 in having beautiful hair is knowing your products and how they work for your hair, and then acting accordingly.
Again, it feels as I have tested hundreds of products, but I have now narrowed it down to a few staples that are must haves for my hairs' success.  Now, being fully grey, the new products that I cannot live without are amazing purple/blue shampoos, heat/element protection and an amazing finishing pomade.
 amazing finishing pomade.
Grey hair is simply the loss of melanin in the strand, leaving it almost colorless or iridescent, and while it may be hard to cover with dye, it is certainly easy to stain or discolor. To protect the hue or "color" of my grey has become paramount on this new journey. Here is what I have learned about products to protect my grey tresses.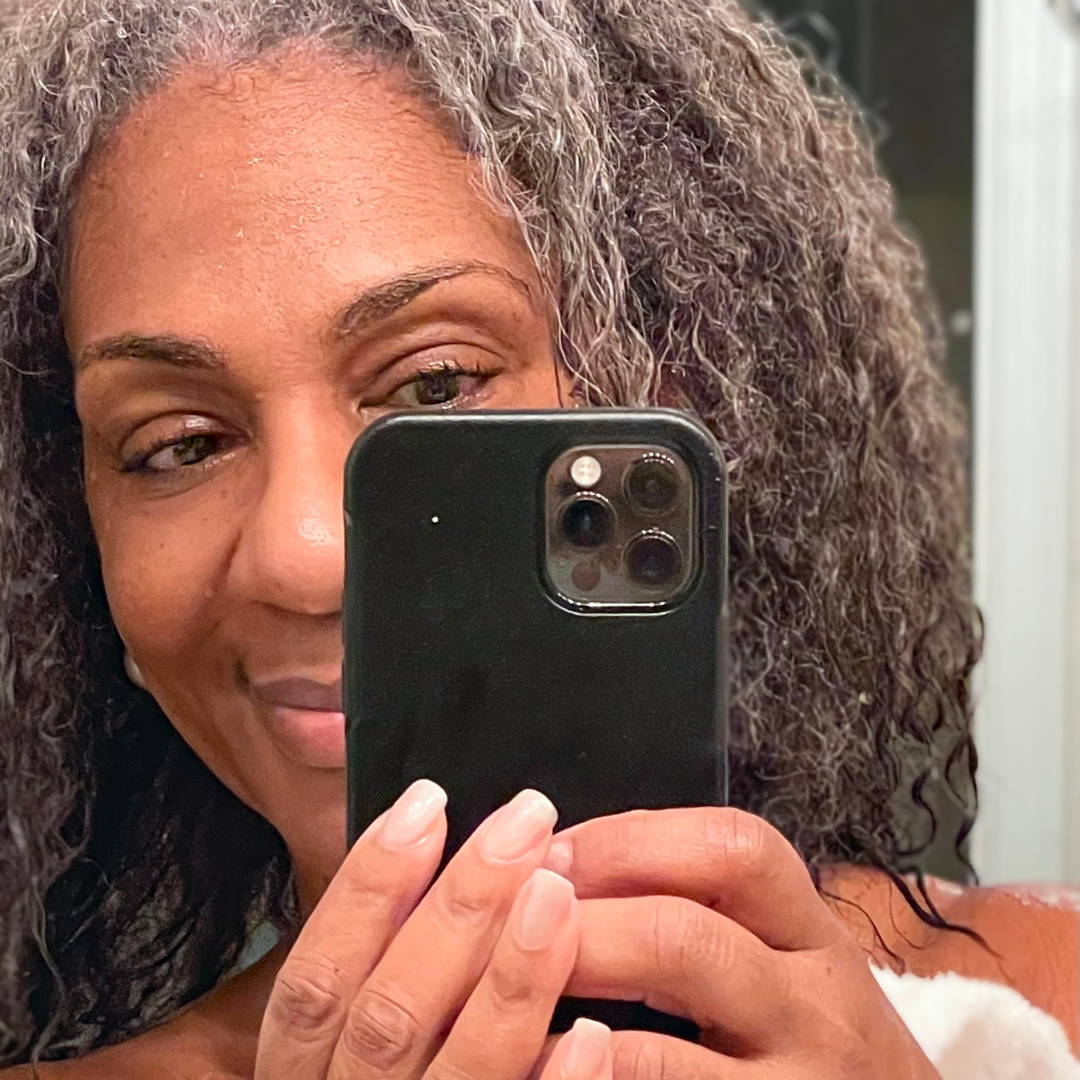 1. Shampoo/Condition with purpose.
See a slightly yellow tinge? Try a purple shampoo. If you are afraid that this will leave your hair with a purple hue, test strands/patch before beginning to ensure that you will be happy with the end result.

appy with the end result.

Same with orange brassy tone... use blue shampoo. I personally love the results of both and highly recommend when color tone is dingy and not brilliant. My favorite is Redken Color Extend Blondage Color Depositing Purple Shampoo/Conditioner.
2. Heat, including the sun, needs to be protected against.
This should come as no surprise, but grey hair is again more easily subject to damage and discoloration. There are a couple of products that help to protect my tresses against the stresses of the environment and my flat iron. Whether it be a hard water shampoo or protein treatment, I keep products on deck for protection.The staples that I use every week are a heat protectant for blow drying, It's a 10 Miracle Leave In Product, an oil serum to add slick and ease, and Redkin Extreme Anti-Snap Leave-In Fortifier. Note: this might sound like a lot, but I lightly layer these products before blow drying. This is a tried and true formula for me... along with a sun bonnet during morning walks.

ong with a sun bonnet during morning walks.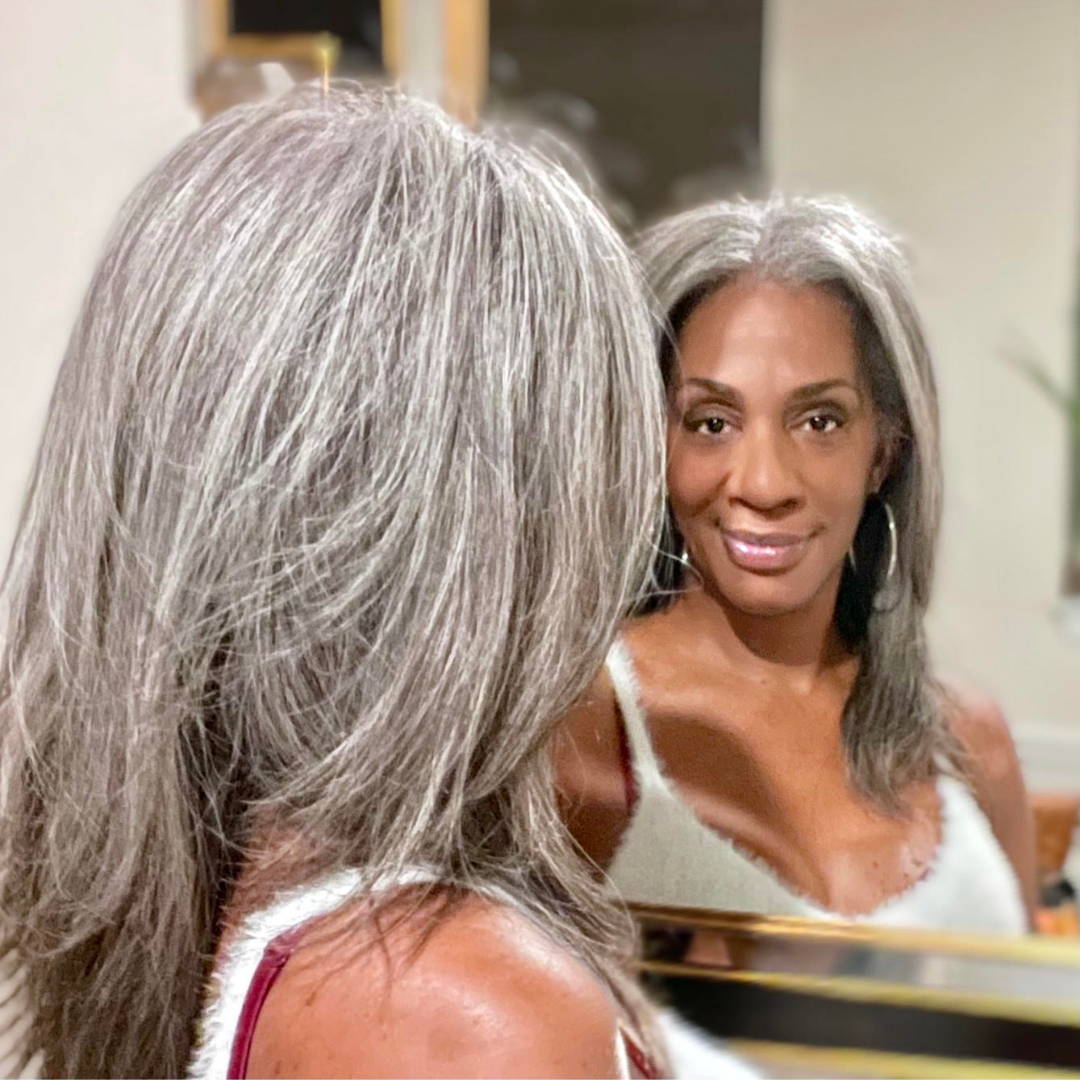 Let's seal the deal. Now I have shampooed, conditioned, heat treated and flat ironed my hair. This look has the ability to last me all week... when managed with the care of a satin pillow case and an appropriate bed time routine - and my finishing product Manhattan Grey Vegan Moisture Pomade for Grey Hair. Like all of the products above, I use this whether I am doing a full blow out or headed out with a wash and go. 
In growing out hair, it is super important to be mindful of 2 areas for me, the undercarriage and the ends. The undercarriage is always taking a beating, whether is be the sweaty, salty neck of a workout or the oil stealing dryness of my wool blazer. I can never retain length or the health of my hair without addressing those two areas, and Manhattan Grey does that perfectly. 
Grey hair and I do care - 
Patti
PS. - keep your ends trimmed :)